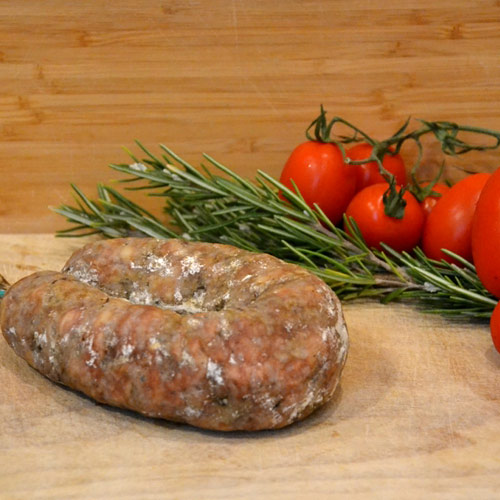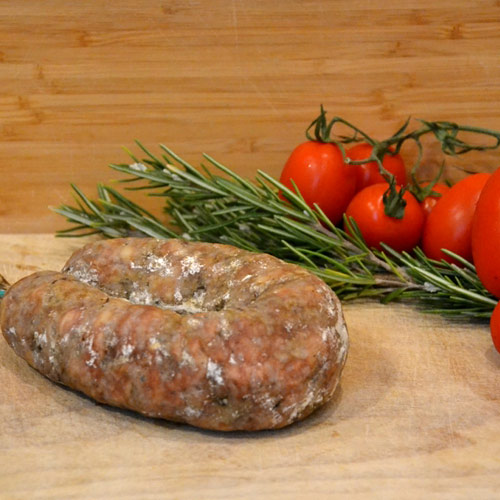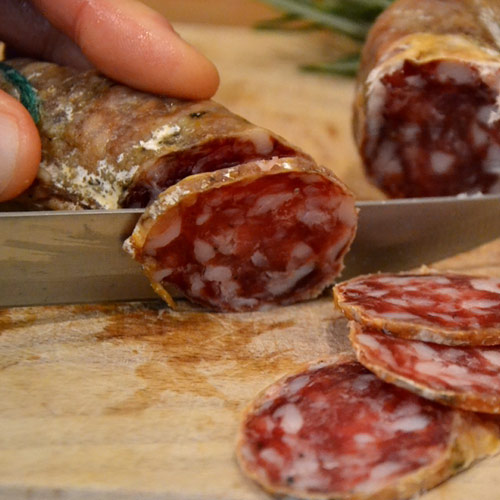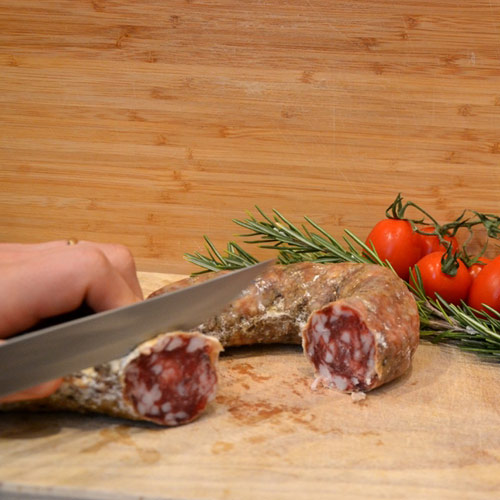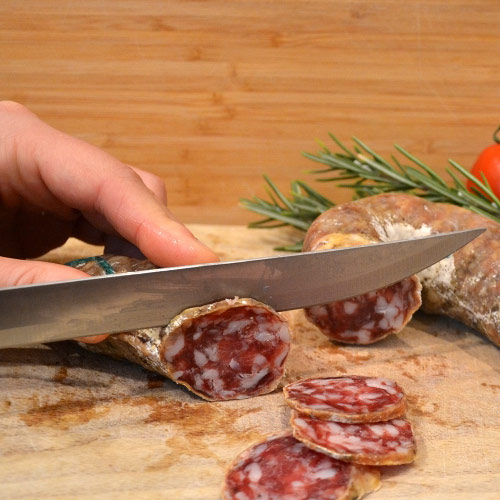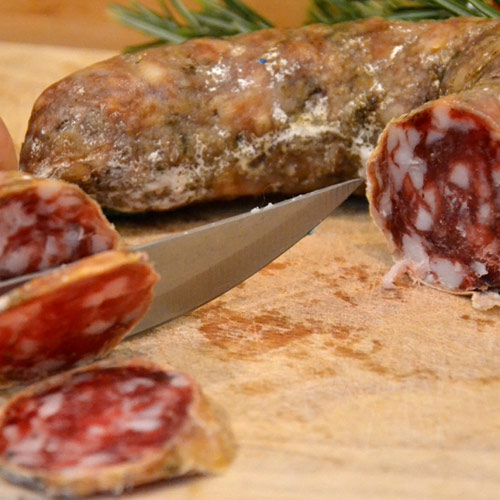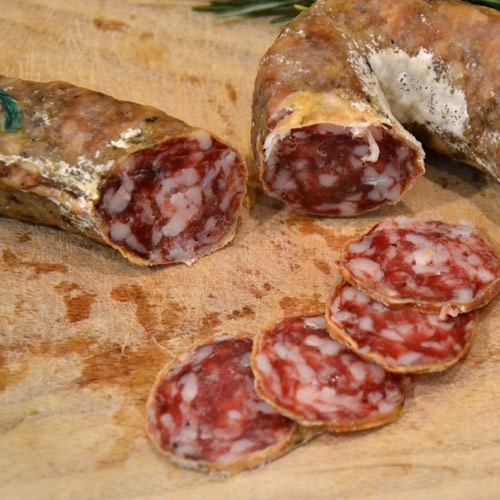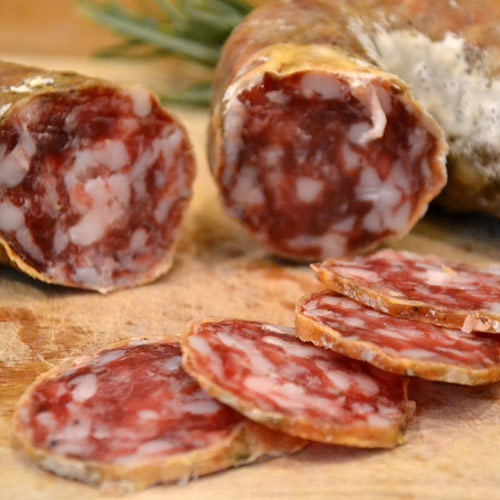 Il Macchiaiolo Salami
Additional Information
Proucer: norcineria Marianelli
• Area: Montopoli in Val D'Arno (Pisa) • Type:Artisanal salami produced by the Montopoli old Specialty butchershop in Val d'Arno, made from pork, boar and game meat, refined with blueberry grappa. • Size: weight: 300 gr c.a •Packging: 1 salami • Availability: available in 7 days + shipping time
Out of stock
Product Description
Il Macchiaiolo Handmade salami
Artisanal salami made from pork, boar and game meat, refined with blueberry grappa.
Handmade salami made from pork and game meat refined with blueberry grappa.
The Macchiaiolo is an handmade salami made by the old Marianelli butcher shop in Montopoli, which is a little medieval village in the province of Pisa.
This salami type, which is particularly tasty and nourishing, is named after spots, or to be more precise, after woods that sorround Pisan hills, where the hunters used to go overnight to hunt boars, deers and fallow deers.  The meat from these haunted animals was processed with pork meat, seasoned with local flavourings, stuffed in genuine guts and letf to season for a few months in order to obtain a salami that could be brought into a sack and could be consumed fleetingly during the cold nights of haunting.
The pork butchers from the Marianelli Family, that have had the virtue of rediscovering and of refining the old local recipes by obtaining quality products for over 100 years, drew on Montopoli hunters' habits to create "the Macchiaiolo".
It is made with meat from the front part of the "Grigio toscano" pork, or heavy pig meat, carefully mixed with boar, deer or fallow deer meat finely chopped with a knife. The Montopoli pork- butcher selects carefully the game in order to prepare the artisanal salami, by using the best parts of the animals, that is: ham and shoulder, which give a strong taste to the product. The processed and seasoned meats are filled by hand in little gut casings. These unique Tuscan salami are refined in a blueberry grappa to sweeten the gamy flavour of the game.
The aging lasts from 40 to 50 days and results in a salami which is able to tell the history and the beauty of the Montopoli's woods through the sense of smell and gustatory qualities.
Luca Marianelli, owner of the award-winning Tuscan Specialty butchershop, and his son Mirko spent a year of research to the fulfillment of the original "Macchiaiolo", which is in addition to the existing gourmet sausages suggested by the family farm.
In sausages category on this website you can order also the "Castruccino" refined in Montalcino Brunello wine or the "Forgotten one" (Il dimenticato) refined in Barbiglione wine barrels in Usiglian del Vescovo.
Of course it is recommended to taste the Macchiaiolo artisanal salami with slices of Tuscan bread, croutons with mushrooms and truffles, with a fine full-bodied red wine.