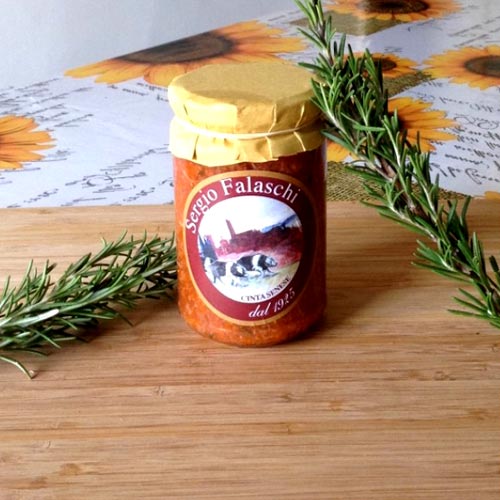 Pork ragout Cinta Senese
Additional Information
• Area: San Miniato • Type: Artisan salami biologically produced in San Miniato (Pisa province) from fresh Cinta Senese pork bred in semi-wild conditions in Tuscany. • Size: 0,2 kg circa • Packging: 1 jar • Availability: available in 5 days + shipping time
Out of stock
Product Description
Pork ragout Cinta Senese
Artisan salami biologically made from fresh Cinta Senese pork bred in semi-wild conditions in Tuscany.
The pork ragout available to buy from our online store is just one of the authentic ready-to-use sauces
made by the celebrated Sergio Falaschi butchers in San Miniato, in the province of Pisa. The products from
this Tuscan butcher contain only carefully selected prime quality meat from the best farmers in Tuscany.
The traceability of the meat is clearly marked on each product. This Italian ragout is made exclusively from
the meat of the "Cinta Senese" breed of pigs, born and reared in Tuscany using traditional methods. The
animals are fed on natural foods such as berries and acorns, making their meat particularly firm and
flavoursome and much easier to digest than pork of other origins. Other products made from Cinta Senese
pork are also available from Vivere la Toscana, such as the organic salami and "Spuma di Gota" both made
by the Falaschi butchers. The delicious ready-to-use pork ragout is made according to a traditional recipe
using 80% fresh pork meat, tomato, celery and natural flavours. The handy sauce is excellent with all kinds
of pasta and requires just a few minutes' heating before serving. This gourmet Tuscan pork meat sauce is
also an excellent topping for slices of toasted bread, for an instant Italian appetizer, served of course with a
good red wine, like a Chianti dei Colli Senesi. After opening, we recommend storing your Italian pork ragu in
the fridge for up to three days. This recipe, which uses Cinta Senese pork meat instead of the usual beef,
was created by Sergio Falaschi's wife, Lina.