HAVE A GOOD NETSURFING AND A GOOD PURCHASE WITH "VIVERE LA TOSCANA"!
"Vivere la Toscana" is the new e-commerce portal that gives the chance to buy the best typical products of Tuscany online from the producers, the companies and the local craftsmen, without any wasteful intermediations.
Each product has been selected with care, by accessing the quality/ price ratio.
Browsing in our portal and making a virtual tour on the borgo and the small towns of Tuscany, you can buy online both the typical products of regional gastronomy, such as wines, cheeses and extra virgin olive oil, and Tuscan homemade objects, such as bags, and handmade shoes, or even homemade jewels.
The foodstuffs of Tuscany are famous all over the world for the quality of its natural ingredients, for its natural flavours and its scents, for the authentic cooking techniques and its traditional receipts. In our portal, you can buy the finest Tuscan wines, suggested by expert sommeliers, such as the wine productions of area of Chianti and the excellences of the wines of Bolgheri and Castagneto Carducci. The wine tasting joins the oil one, strictly extra virgin, obtained by the cold pressing, in order to keep its precious organoleptic and nutritive properties intact. Online on our shop, you can also find the scented seasonings with the rare underwood fruits, such as the black and white truffle, the "Pregiato" of San Miniato, or the porcini mushrooms and other flavorous Mediterranean aromas. In the page of each product, "Vivere la Toscana" suggests the possible gastronomic matching, such as honey and the Tuscan "pecorino cheese", or cheeses and cold cuts (you can always find online, in our portal).
The sincere passion of the craftsmen for the traditional professions, led by the manual work, the creativity and the individual intelligence, is the particularity of the Tuscan handicraft. "Vivere la Toscana" has selected for you the producers that ensure a real care for the quality of the row materials, their respect for the environment, the creation of finest, unique and inimitable artefacts: homemade, handmade and personalized bags and shoes in vegetal tanned leather in the famous "Leather District" between Florence and Pisa; vegan shoes in resistant materials that respect nature; fashion, Made in Italy items, such as tailored pullover,100% cashmere, hand refined in the famous tailor's shops of Tuscany.
Tuscany and, in particular, Florence and Arezzo, are famous for the production of wonderful homemade jewels. Online in our shop, like in the famous jewelleries in "Ponte Vecchio", you can find exclusive creations in white, yellow and pink gold, 18 karats and automatic wristwatches, totally handmade. Do not forget to visit the category of cosmetics, where you can buy natural products with the nutritive properties of their vegetal ingredients, in order to improve your aspect and the skin and body health, thanks to the ancient remedies of Etrurian and Medieval origin.
NEWS, PHOTO & COOKING RECIPES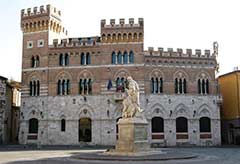 26 October 2016
GROSSETO AND SURROUNDINGS Grosseto, which is the capital of the Maremma, is located in a large…