Florence and its surroundings
ART, CULTURE, IMAGES, CURIOSITY, VIDEO, SHOWS, EXHIBITIONS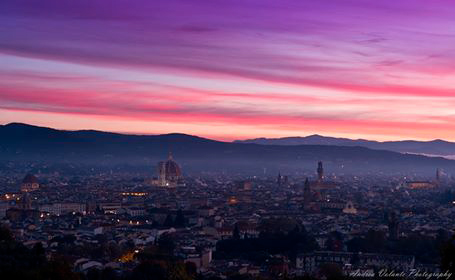 14 December 2016
Florence's museums, palaces, and churches house some of the greatest artistic treasures in the world.…
FLORENCE AND ITS SURROUNDINGS
Florence, homeland of the great poet Dante Alighieri, with its museums, buildings, and churches, houses some of the most important art treasures of the world. Among the most popular art scenes and places of worship, there are the Santa Maria Del Fiore cathedral, the churches of Santa Maria Novella and Santa Croce, the Battistero, the Uffizi Gallery, the Accademia Gallery, the Bargello, and art galleries such as the Biblioteca Medicea Laurenziana and Palazzo Pitti.
But Florence is also made of walkways, glimpses, courts, corners and inner reaches. It's the homeland of the Italian language. It's sympathy, sonority, musicality of the speaking and the local dialect.
It's a romantic place to spend your honeymoon, or a place you can go to elope with your fiancé. What else to see in Florence? The river Arno, the romantic Vecchio bridge, the gardens of Boboli, the church of San Miniato Al Monte, from where you can enjoy a wonderful sight of Florence.
SALE PRODUCTS