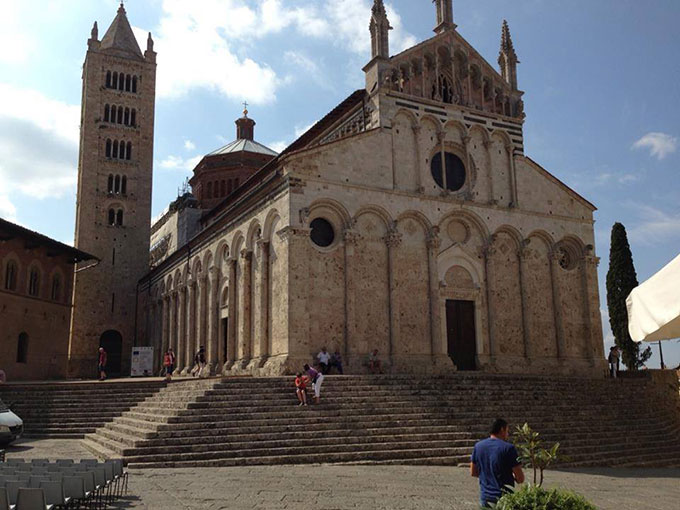 Massa Marittima, photo by Nadia Pesce
Massa Marittima, the 'City of Museums', is a very attractive town situated on a hill in south-west Tuscany. The town is very interesting to tourists because of its unique artistic and historical heritage, as seen in the buildings and numerous museums. Not surprisingly given the geographical position of Massa Marittima it also has lovely views across the beautiful landscape of the Maremma region of Tuscany. The town has received the Italian Orange Flag award for sustainable tourism.
Your visit to the old centre of Massa Marittima starts in and around Piazza Garibaldi, a very attractive square in the heart of the old town. Here in Piazza Garibaldi certain particularly elegant buildings stand out, including the 13th century, the Palazzo Comunale and the Praetorian Palace which is also the seat of the principal museums.
In the vicinity of the square you can also see the 13th century Public Fountain, the 'Palace of Plenty', the ancient Mint and the Church of San Michele. Head along Via Roma and the steep street called Via Moncini to Porta Senese and Silici Gate, beyond which more interesting buildings can be seen such as the the Fortezza Senese and the Tower of the Candle. The views from the top of the tower (entry charge payable) are extremely impressive.
In Piazza Matteotti in the upper part of the town near the Tower of the Candle there are some more historic buildings that stand out. These are the 15th century Palazzo delle Armi; the 13th century church of Saint Augustine, with one nave and a painting by Lorenzo Lippi ("The Flight into Egypt"); and the Church of San Francesco.
Photo Credits: Nadia Pesce