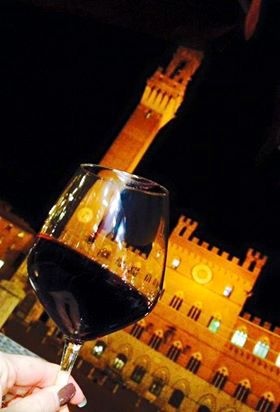 Palazzo Comunale di Siena, photo by MARIA ELISABETH D'ALESSANDRO
The Palazzo Pubblico of Siena rises next to the slender Torre del Mangia above Piazza del Campo to which it is strongly linked in historical terms. It was built between 1298-1310, and not in stone but rather brickwork with white elements in marble. The building presents flat-topped merlons and develops longitudinally decorative windows. The numerous openings all over the buildings served to hold beams or girders for galleries. The façade is built of stone up to the first row of three-light windows, and then of brickwork. In typical Sienese style, the windows have three small arches supported by 'cippi' or small columns while in the centre of each arched lintel (between the small arches and the main lancet of each window) there is a coat of arms of Siena.
The Palazzo Comunale is still today the official seat of the Communal Administration, housing the offices of the modern Town Council, those of the Mayor and some State rooms. On the first floor there is the Civic Museum and the theatre of the 'Rinnovati'. On the second floor there is the Town Council Meeting Room and a loggia facing south. Next to the Torre del Mangia there is the Podestà Courtyard, decorated with antique coats of arms, which also functions as entrance to the Palazzo.
Photo Credits: Maria Elizabeth D'Alessandro