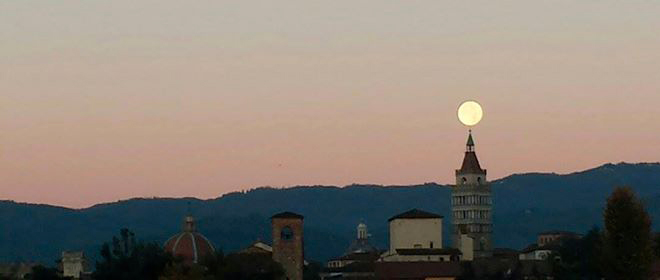 Pistoia, photo by ADELISA ARRIGONI
Visiting Pistoia's old town is like taking a journey back in time. In fact, Pistoia is a city with multiple amazing facets, thanks to its elegance and refined beauty. Pistoia presents a well-preserved and charming medieval city inside the old walls. The large Piazza del Duomo is lined with attractive original buildings, and is the setting (in July) of the Bear Joust(Giostra dell'Orso), when the best horsemen of the districts of the town tilt with lances at a target held up by a dummy shaped like a bear. The Cattedrale di San Zeno, built in the 12th-13th century on the site of a fifth-century church, has enough artistic quality to make it alone worth a visit to Pistoia. The facade, with its seven-arched portico and three doorways, was completed in 1311. At the left end stands a massive campanile, 67 meters high, the base of which may have been a Lombard watch-tower.
Opposite the west end of the cathedral is the Baptistery, built between 1338 and 1359 by Cellino di Nese to the designs of Andrea Pisano. The striking building is faced with alternating bands of white and green marble, and in the tympanum of the main doorway is a figure of the Madonna. Very suggested is also  the Ospedale del Ceppo, a medieval hospital to the north of the Palazzo del Comune, which was founded in the 13th or 14th century and takes its name from the offering-box (ceppo) in which alms for the poor and sick were collected.
Phot Credits: Adelisa Arrigoni