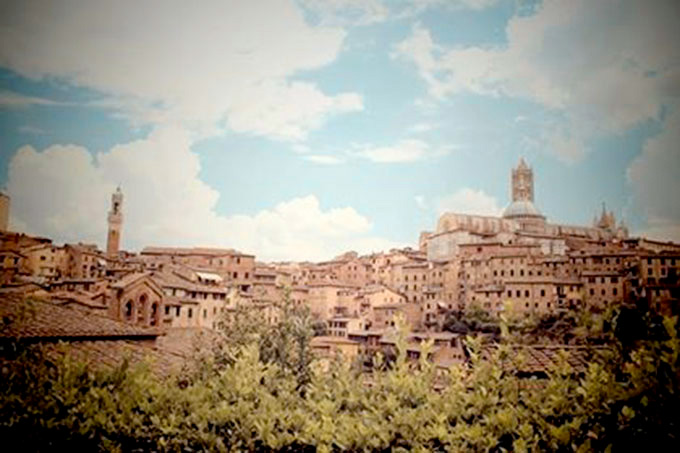 San Gimignano, photo by KARINE VINTEVOGEL
The Historic Centre of San Gimignano sits on a height of land, dominating the surrounding landscape. During the Middle Ages, its location in Val d'Elsa, 56 km south of Florence, provided an important relay point for pilgrims travelling to or from Rome on the Via Francigena. The town became independent in 1199 and between the 11th and the 13th century the noble families and upper middle-class merchants who controlled the free town built many fortified tower houses (probably 72) as symbols of their wealth and power. The town grew around two principal squares: the triangular Piazza della Cisterna, ornamented with a lovely central well, and the Piazza Duomo, dating from the late 13th century with its more intricate layout containing the majority of public and private monuments. After 1353, the town went into a period of decline due to waves of famine and plague that caused a drastic decrease in population. Within a hundred years, the town was downgraded to the level of the other lands under the Florentine control. This status, however, prevented the town from the urban renewal that transformed many Italian historical towns after the Middle Ages.
While only 14 of the original tower houses have survived, San Gimignano has retained its feudal atmosphere and appearance, embellished with several notable palaces during the 12th and 14th century. The town also has several masterpieces of Italian art dating to the 14th and 15th centuries. These are found in the cathedral as well as in other prominent religious and public buildings.
The Historic Centre of San Gimignano is a cultural site of exceptional value, since it has treasured its architectural homogeneity and its original urban layout. The buildings within the town's double wall provide a shining example of medieval architecture with influences of Florentine, Sienese, and Pisan styles from the 12th to the 14th century
Photo Credits: Karine Vintevogel