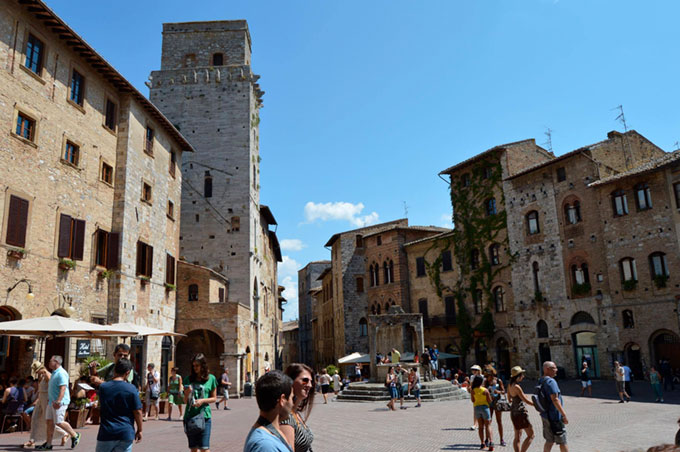 San Gimignano, photo by JUAN CARLOS ROMAN CARRASCO
San Gimignano, the town of beautiful towers, is situated among the hills of alta Val d'Elsa, in the northern part of the Province of Siena, on the border with the Provinces of Florence and Pisa, in the heart of Tuscany.
The town is well-known since the beginning of 9th century thanks to its position on the via Francigena, that took the pilgrims from Northern Europe to Rome, and it attained its maximum splendour in the Middle Ages. Dominated from its towers, originally they were 76 and they were the symbol of richness of the most important families. Today it still preserves 14 towers that thanks to an intelligent work of maintenance give to the ancient village the striking features of the Middle Ages time.
The walk will astonish you going along the rustic streets that arrive to Piazza del Duomo and Piazza della Cisterna, to museums, buildings and churches, all monuments of extraordinary artistic and historical value. You can also watch works of Lippo Memmi at Palazzo comunale, of  Benozzo Gozzoli in the famous church of Sant'Agostino and Filippino Lippi at the Museum.
But San Gimignano is not only art, it is well known also for its country cultivated with olive groves and vineyards with the production of the "Vernaccia di San Gimignano. It is famous also the Saffron produced in the area of San Gimignano, that characterizes many recipes of the typical gastronomy of this place.
Photo Credits: Juan Carlos Roman Carrasco