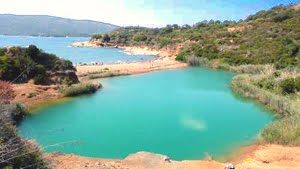 Not far from Porto Azzurro in the direction of Rio nell'Elba there is one of the most suggestive places of the Tuscan coast: the beach and little thermal lake of Terranera. To get here you need to walk down the last stretch, about 500mt long, along a downhill path, which is surrounded by Mediterranean forest, from where you can admire a really unique landscape. The Terranera lake is a little emerald green body of water, which is separated by the sea by a strip of beach. The lake was formed as a result of excavations for the extraction of mineral deposits from the cliffs, that have reached underground aquifers with sulphureous content, with the temperature at 22 degrees. All around the green Mediterranean Forest predominate, alternating with the red rock walls were you can still glimpse the remains of the old mining.
The little beach that stands between the lake and the sea is very particular and owes its uniqueness to the presence of large amounts of wastes of the old mining. It is made up prevalently of debris of hematite, that give to the sand a mostly black color, mixed with debris of pyrite, that are golden, and reddish limonite.
During cloudy days, the beach is very dark and gloomy, but it only takes a ray of light to brighten it, with thousand colors and dazzling reflections that change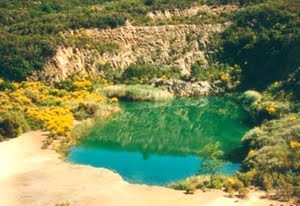 during the day according to the intensity of the sunlight.
The views on the therapeutic properties of the water do not agree: someone says that they are perfect to treat skin diseases and acne, others say that the high content of Sulphur is dangerous. In case of doubt, the lake is not bathing water, also because of the muddy seabed, that makes it pretty dangerous. It's a real shame because the emerald green water makes you want to take a dip.
Anyway it doesn't matter, the magic of this place is given by the infinite variety of colors and reflections, that mix and melt, from the contrast between red rocks and th
e green Mediterranean forest to the green water of the lake and the blue water of the sea, separated by a strip of shiny and bright sand: and no one could ever take away from us this unique and beautiful thing!