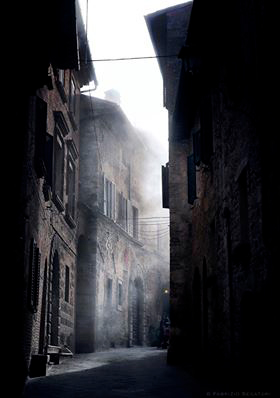 Montepulciano, photo by FABRIZIO SEGATORI
Situated on a 600 meter (2,00 feet) high limestone ridge, Montepulciano is a medieval town in southern Tuscany. The city, full of elegant Renaissance palaces, ancient churches, charming squares and hidden corners, boasts vast panoramas all over the wonderful Val d'Orcia and Val di Chiana valleys that surround it.
Passing under the imposing gate of Porta al Prato, you soon enter the Corso, full of all kinds of shops and fashionable stores. At the first square you reach, admire the Colonna del Marzocco, a marble column with the heraldic lion of Florence which also decorates many other palaces such as the Palazzo Avignonesi. A series of sumptuous and elegant palaces succeed one after the other, until you come in front of the Church of Sant'Agostino, designed by Michelozzo, an important artist working for the powerful Medici family. The church displays a Crucifix attributed to Donatello. Moving on, just across the street, your attention will be captured by a tower house, adorned with the curious figure of Pulcinella, striking the hours on the big clock.  Continuing on the Corso, passing further Renaissance buildings, you meet the elegant Palazzo Cervini, and nearby shortly before the road turns, you arrive at the home of Poliziano, a great humanist and poet under the patronage of the famous Lorenzo di Medici. Poliziano was also teacher to the Medici children.
Finally it's very suggested the famous Piazza Grande, situated at the highest point of the town, which is considered the centre of Montepulciano and it is dominated by the great tower and the Gothic façade of the Palazzo Comunale. From the top of the tower you can see as far as Radicofani, the Val d'Orcia and the Lake Trasimeno. The square is lined with some grand buildings like the  Cathedral of Santa Maria Assunta and The Palazzo Comunale. From the top of the tower of the Palazzo del Comune a true spectacle opens before your eyes with incredible and never ending views.
Photo Credits: Fabrizio Segatori